A true game meat aficionado like Saint-Hubert, patron saint of hunting, Terry Pomerantz loves moose meat.
But Terry is not a hunter. Moreover, in Quebec, it is impossible to purchase game meat from the butcher or the supermarket. Terry Pomerantz relies on his hunter friends' generosity for a nice piece of game meat once in a while.
The Origins of Moose Sausage
Anthropologists would tell you that sausage first appeared in the Middle East. It would have appeared in the Bronze Age, which means around 3000 B.C.
The word "sausage" comes from the Latin salsicius, which means "to be seasoned with salt".
Moose, just like deer, beaver and caribou, is one of Quebec's emblematic animals. Traditionally, First Nations here did not make sausage with game meat; they would roast venison and make ragout. Moose sausage is thus a perfect example of a blend between European cooking traditions and meats and flavors from Quebec and First Nations.
Commercializing Game Meat
In Quebec, in order to avoid poaching and for health related reasons, it is strictly forbidden to commercialize wild game meat including from the butcher's, supermarkets and restaurants.
Hunters are, however, allowed to enjoy the game meat they have hunted by having it prepared and stored by a butcher, a slaughterhouse or deli meat shop, but only for their personal use. These establishments are inspected and meet strict regulations established by the Ministry of Agriculture, Food, Forestry and Fishing.
You might enjoy the following recipes: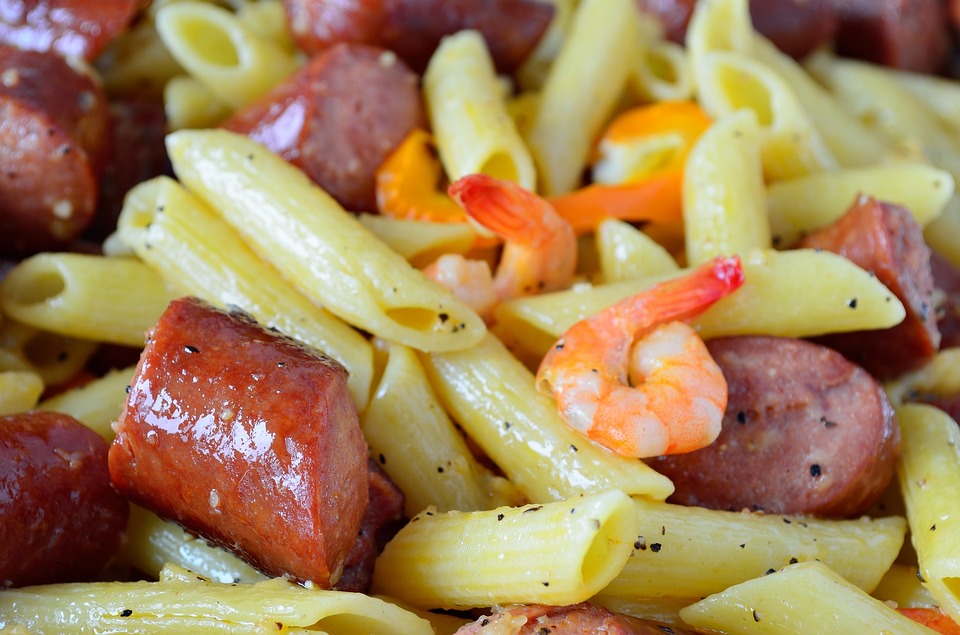 What part of the moose should you choose?
To make moose sausage, hunters suggest using meat from the chest or shoulder.
Terry's favorite homemade moose sausage recipe
Terry Pomerantz specifies: "When you are preparing moose sausage, you must keep in mind that moose meat is very lean. Most chefs who cook venison will add very fatty minced pork meat to the moose meat, for their sausages."
Ingredients
3 lbs (1.5 kg) moose meat (chest or shoulder)
2 lbs (1 kg) pork
A little over 5 feet of 32-34 gauge sausage casing
2 tbsp of garlic powder
2 tbsp of Saint-Lawrence salt
2 tbsp of maple sugar
1 tbsp of ground pepper
1 tsp of paprika
1 tsp of celery seeds
2 g of homemade mix of kosher salt, clove, celery powder and rosemary
1 cup cold water
Preparation
Step 1
Cut the moose meat and pork into cubes.
In a large bowl, mix the moose meat and pork.
Mix all of the spices into the cup of cold water.
Mix the meats and homemade seasoning until mixture is smooth.
Taste: cook a small portion of your moose sausage mixture (small meat ball).
Adjust seasoning if needed
Refrigerate meat for 4 hours.
Step 2
Rinse sausage casing in cold water.
Install the sausage accessory on your meat grinder.
Place the casing on the filling tube.
Push a bit of meat in at a time. Fill your casing until it is almost full and make a knot at the end.
Round the sausages by rolling them.
Place the sausages on a baking sheet and refrigerate overnight, before freezing.
How to cook your sausages over the barbecue
Terry Pomerantz gives us one of his tricks for juicy sausages, even when cooked over the barbecue.
"It's simple. No matter if it is a moose sausage a Toulouse sausage or a merguez, I place the frozen sausage directly on the hot barbecue grill and I cook it over medium heat."
Enjoy!