Terry Pomerantz explains how he prepares a Benny style BBQ sauce recipe
What is Benny style BBQ sauce?
According to culinary art historians, the very first barbecue sauce was created in South Carolina. This mustard based sauce recipe would have been imported to America by German colonists from the 18th century. Then, back in 1951, the Heinz Company commercialized BBQ sauce by distributing it everywhere in the United States and America.
Despite massive distribution of the industrial BBQ sauce, every region of America, every family and every rotisserie developed its own specific BBQ sauce recipe.
In 1960, the 8 Benny brothers opened the Benny rotisserie in Joliette and made their very own original barbecue sauce recipe. Although we know that it was Gilles Benny who made the first chicken grilling oven for Benny rotisserie chicken and that he perfected an exclusive slow cooking technique, we are unsure of who exactly developed the Benny sauce recipe.
Benny Style BBQ sauce recipe
According to the label on the Benny sauce jar that can be found at any Benny & Co branch, it is made with the following ingredients:
Water
Corn starch
Sugars
Salt
Dehydrated tomatoes, onions and garlic
Monosodium glutamate
Vegetable oil
Spices and spice extracts
Celery seed powder
Sulfites
Citric acid
Sodium diacetate
Potassium sorbate
Mustard powder
Natural flavors
But what types of proportions do Benny rotisseries use for these ingredients? Which spices exactly are part of this recipe? What vegetable oil is used? Benny & Co gives us a few hints, but the recipe secrets seem to be well guarded!
Roasting a chicken over the barbecue
"A Benny style BBQ sauce is delicious when served with one of the best meats for the barbecue… chicken!" Terry Pomerantz quickly adds "Especially if you are cooking your chicken over the best types of wood for the grill."
Ingredients
1 Chicken
Olive oil
Garlic powder
Provence herbs
Smoked paprika
Preparation
With a chef's knife, split open the chicken into two parts
Brush the chicken with olive oil, and sprinkle with garlic powder, Provence herbs and smoked paprika
Roast the chicken over indirect heat on the barbecue
First roast on the skin side for 30 to 40 minutes
Then roast on the skinless side for around 10 minutes or until thigh temperature reaches 180 o F (by inserting the thermometer into the thigh, without touching the bone).
Benny style BBQ sauce, by Terry
Ingredients
2 cups of homemade chicken broth
½ cup of store bought ketchup
¼ cup of maple sugar
2 tbsp of Worcestershire sauce
156 ml of tomato paste
1 tsbp of balsamic vinegar
½ a tsp of garlic powder
½ tsp of onion poweder
½ tsp of cumin
½ tsp of smoked paprika
Salt and pepper to taste
8 tsp of corn starch
80 ml of cold water
Preparation
Mix together all ingredients in a pan
Bring to a boil by stirring constantly
Lower heat to a simmer and cook for 20 min, stirring occasionally
In a bowl, with a fork or small whisk, mix together corn starch and cold water
Thicken sauce if needed with corn starch and water mixture
"A good barbecue chicken with Benny style sauce (or Terry style!), paired with a delicious Quebecer rosé, is both simple and delicious. Enjoy!" concludes Terry Pomerantz.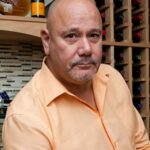 Terry Pomerantz, passionate about good food, shares with you his gastronomic favorites, tips and recipes, turning every meal into a memorable experience. Explore his culinary universe and discover the delights he suggests to tantalize your taste buds.