Cooking on a spit is not only reserved to veal or a whole pig, for a delicious mechoui with friends.
Here are a few other meat suggestions to cook on a spit, amongst Terry Pomerantz' favorite BBQ recipes!
BBQ spit
Terry Pomerantz always uses the electric spit on his barbecue. "I don't like to make things complicated. When I cook meat on the spit, I use my BBQ. Most barbecues have notches that are specially made for a spit. Most barbecues also include an electric motor. If yours doesn't, you can easily find an electric motor and spit to fit your barbecue."
How to place the spit?
Terry never installs the spit directly above the fire, as this would cause the exterior of the meat to burn before the interior is even hot. Terry prefers setting the spit off center, so that it's not directly set above the flames. This way, the spit will slowly allow the meat to cook without it burning.
Terry's favorite meats on the spit
Terry Pomerantz' favorite meats cooked on the spit are chicken, leg of lamb and roast beef. He adds to these delicious classic roasts a few recipes he loves, like Greek kebabs (gyros). 
Cooking
Perfectly cooked or overdone? That seems to be the eternal question when grilling veal or beef on the spit. "I try to cook the meat so that it is medium rare in the center. If one of my guests prefers it more done, it is easy to put this individual portion directly on the barbecue and cook it to their taste."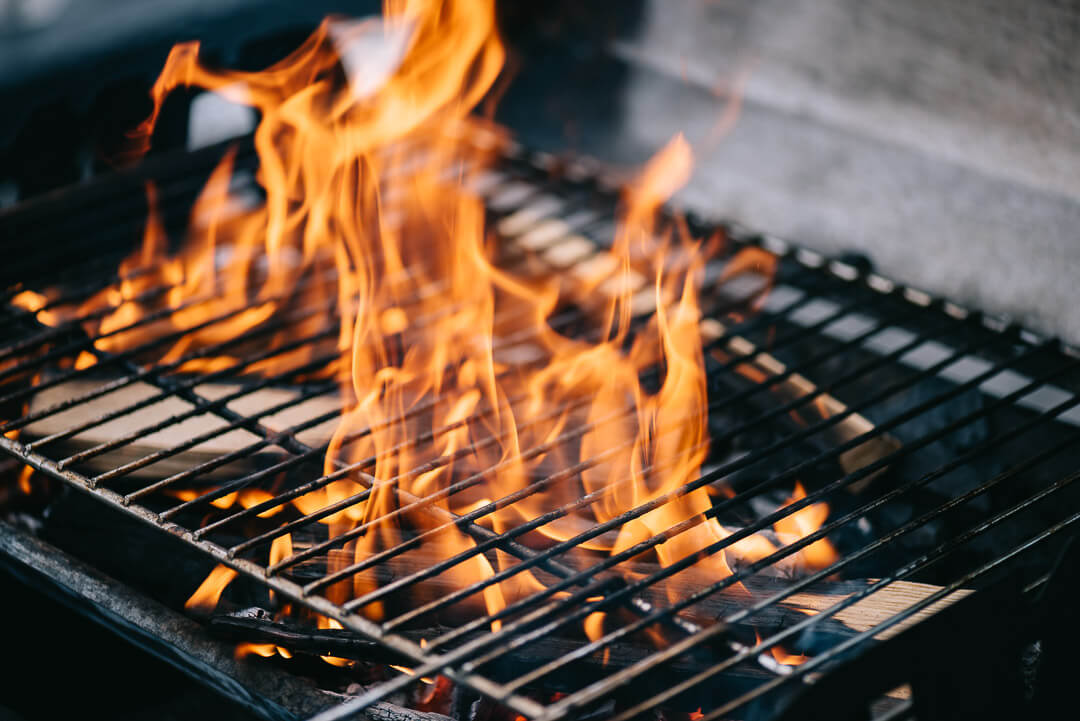 2 recipes for meat on the spit
Terry loves preparing these 2 recipes for his guests.
Leg of lamb on the spit
Ingredients
1 leg of lamb
Several cloves of garlic
Onions
Plain Greek yogurt
Olive oil
Thyme, salt and pepper.
Preparation
Place the leg of lamb and all of the other ingredients in a large plastic bag
Shake the bag a few times to ensure the leg of lamb is coated with the mixture
Place in the fridge for 24 hours.
Terry notices that "the yogurt makes the meat more tender, dissolves fat and gives the lamb a deliciously unique flavor." Terry pours the leftover marinade slowly over the lamb, while it is cooking.
Greek Style Marinated Beef Kebab Brochettes
Ingredients – serves 4
600 g minced beef (or chicken, veal, pork)
1 grated onion
2 tbsp of plain Greek yogurt
2 minced garlic cloves
1 tbsp of fresh cilantro
1 tbsp of fresh thyme
2 tbsp of paprika
1 tsp of pepper
1 tsp of salt
1 pinch of cayenne pepper
1 pinch of cinnamon and nutmeg
The juice from ½ a lemon
Olive oil.
Preparation
In a large bowl, mix in meat, onion, yogurt, garlic, lemon and spices.
Marinate for 4 hours in the fridge.
Mold meat onto the spit.
Cook the meat fully, but slowly.
Enjoy!
Or in Greek; "Kali órexi!"