The origins of ravioli
According to Wikipedia, ravioli comes from China. It is likely that the recipe for ravioli reached Italy via Arab countries. In fact, the oldest known recipe for this pasta, now recognized as a typical Italian pasta recipe, comes from a 10th Century Arabic cookbook. It consists of pasta squares filled with a stuffing of meat, vegetables and cheese.
There is an incredible variety of homemade ravioli recipes. Vegetarian fans will enjoy pesto ravioli made with chopped parsley and garlic, with a handful of pine nuts added. They will also love spinach and ricotta cheese ravioli. As for carnivores like Terry, they will prefer duck confit ravioli with a wild mushroom sauce, lobster ravioli with a butter sauce or veal ravioli with a creamy sundried tomato sauce.
Terry's challenge
Ravioli are part of Terry's culinary challenges. As surprising as it may seem to this great fan of Italian cuisine, Terry has never cooked them before! We will surely soon see him in his kitchen tackling a homemade ravioli recipe, perhaps with duck confit. To be continued…
It is not recommended to enter Terry's kitchen while he is at the stove, and especially not to venture in there when he is experimenting with a new recipe, not even under the pretext of offering him a glass of wine!
Recipe for Homemade Ravioli Dough
The recipe for the homemade ravioli dough simply requires a little time and patience. Of course, you can add your personal chef's touch.
To prepare ravioli dough for 4 people:
180g of flour
2 eggs
1 tablespoon of milk
1 teaspoon of olive oil
1 pinch of salt
Mix the flour, eggs, milk, olive oil and salt, and knead it into a dough. After letting the dough rest for an hour, spread it out and form rectangles in which you will place your stuffing, and then fold them all into squares. Then seal the ravioli by pressing around the edges with a fork after having moistened them.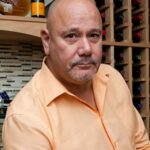 Terry Pomerantz, passionate about good food, shares with you his gastronomic favorites, tips and recipes, turning every meal into a memorable experience. Explore his culinary universe and discover the delights he suggests to tantalize your taste buds.