Montreal's Public Markets
Whether it's to cook his Italian recipes, BBQ recipes or fish, Terry buys his supplies as often as possible from Montreal's public markets. There he finds spices and fresh vegetables from local farms. Montreal's public markets also offer him top quality meats, cheeses from Quebec and around the world, as well as fresh seafood caught by fishermen from the Magdalen Islands, Gaspésie and Acadia.
Terry also finds all the spices of the world in public markets! Not only do fresh herbs such as basil, parsley, oregano and sage abound, they also rub shoulders with spices from Lebanon, Maghreb, Haiti, India, Vietnam, Senegal and Ethiopia.
We take this opportunity given to us by Terry Pomerantz to take a look at the 3 public markets in Montreal that he frequents assiduously.
Atwater Market
Opened in 1933, the Atwater Market was built near the working-class neighbourhood of Saint-Henri, close to the Lachine Canal, which was at the time Montreal's largest industrial axis. The Atwater Market was built at the initiative of Louis-Alexandre Taschereau, Prime Minister of Quebec during the great economic crisis of the early 20th Century. During the Second World War, the Atwater Market was used as a warehouse for the Canadian Army's food.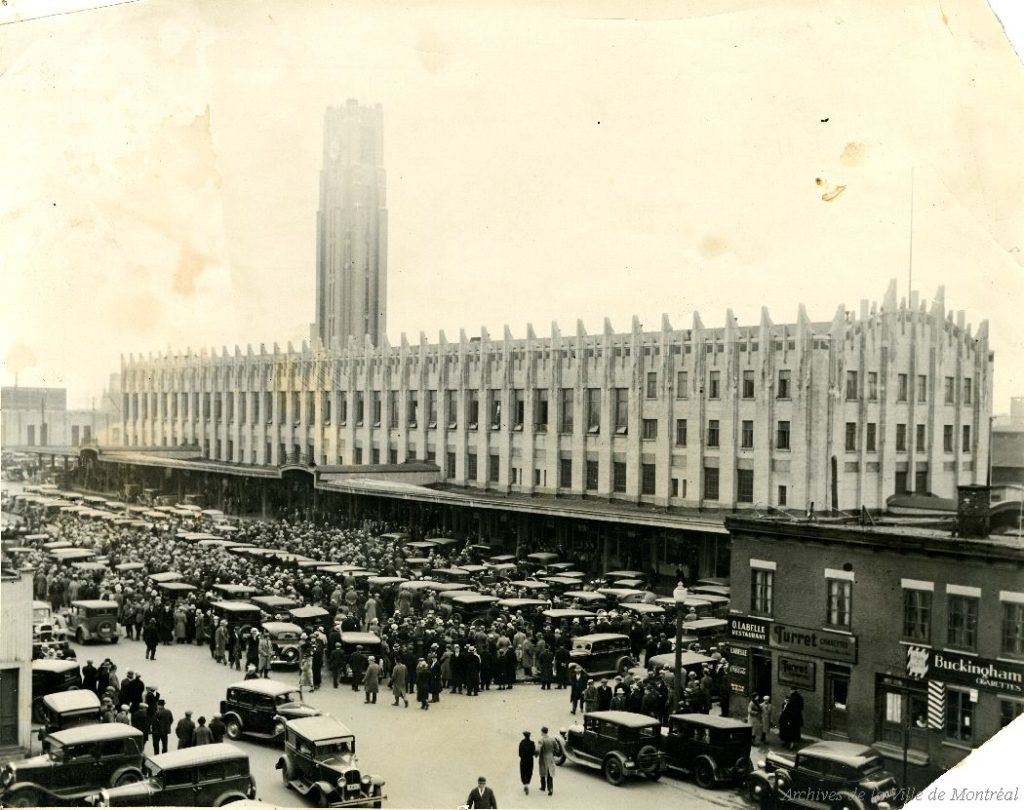 Main Attractions
The Atwater Market is one of the most beautiful Art Deco style buildings in Montreal. It is famous for its many butcher shops where you can find various Québec Vrai certified farms including Charolais cattle, poultry, organic deli meats and sausages. Its cheese dairies offer hundreds of local cheeses. In the spring, horticultural producers and market gardeners invade its surroundings with their flowers and berries. In the summer, the Pôle des Saveurs offers a fast food restaurant with the flavours of the world. In winter, the Montreal Christmas Village settles there. Wrapped up to your ears, it's the perfect opportunity to celebrate our northernness!
Access
The Atwater Market is located at 136 Atwater Avenue, in the South-West borough of Montreal.
Metro stations: Place-Saint-Henri, Lionel-Groulx.
Parking: 500 spaces.
Jean-Talon Market
One of the largest open-air markets in North America, the Jean-Talon market, named after the first steward of Nouvelle-France, was inaugurated in 1933. Open summer and winter, the effervescence is constant.

Main Attractions
Since the opening of this venerable "village in the city", all of Montreal's multi-ethnicity has come together here. Greeks, Italians, Portuguese, Quebecers, Pakistanis, North Africans and West Indians from Villeray, Parc-Extension, Outremont and the Petite Patrie region have been meeting there in a happy sharing of flavours, aromas, dialects, patois and languages. In December, we buy there our Christmas tree and turkey, in June our begonias and our first wild strawberries, and in August and fall our corn, tomatoes and vegetables to make the preserves that "taste like heaven". Culinary workshops and gourmet tours will pleasantly complete your visit. In fact, I suspect that Terry has drawn some of the secrets of his wonderful Italian recipes.
Access
The Jean-Talon market is located in the heart of Little Italy, at the corner of Henri-Julien and Jean-Talon streets.
Metro stations: De Castelnau, Parc, Jean-Talon, Beaubien.
Parking: 410 spaces.
Maisonneuve Market
It was at the beginning of the 20th Century that the Maisonneuve Market opened its doors in the heart of Hochelaga's working-class district, today's Mercier-Hochelaga-Maisonneuve borough.
Main Attractions
After being closed for several years, the market resumed its activities in 1980 following the insistence of the neighbourhood's citizens to the municipal administration. A new building now houses bakeries, cheese dairies, butchers, fishmongers and market gardeners.
In addition to the quality fresh products that abound at the Maisonneuve Market, festive activities such as the Maple Festival and tastings of local products follow one another.
It's the perfect example of a neighbourhood public market!
Access
The Maisonneuve Market is located at the corner of Ontario East and William David Streets.
Metro and bus: Pie-IX station and bus 125.
Parking: available.
Lachine Market
It is the oldest public market in Montreal. It was established in 1845. Located near the Lachine Canal, at the time Canada's main industrial axis, the Lachine Market was at the heart of Montreal's economy.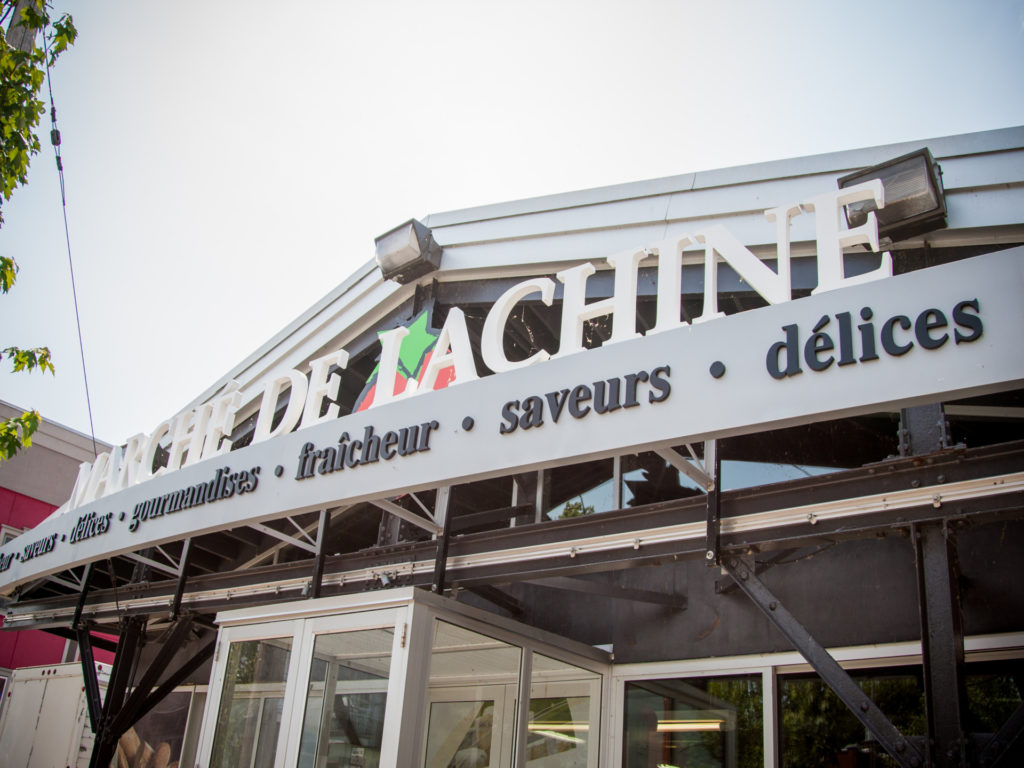 Main Attractions
The Lachine market is open year-round. In the summer, the market gardeners offer fine herbs, flowers and of course strawberries, raspberries, blueberries and a panoply of fresh vegetables, from tomatoes to lettuce, squash, eggplant, asparagus, fiddlehead greens and garlic from here. In summer and fall, the Lachine Market is a fireworks display of colors, flavors and fragrances!
During the holiday season, to finance its operations, the Maison des Jeunes de Lachine sells magnificent Christmas trees and it is the smell of the trees that fills the air with the first snowflakes of December.
Access
The Lachine Market is located at the corner of Notre-Dame Street and 18th Avenue. It is accessible by bike via the Lachine Canal bike path, on foot or by car.
Parking is available.
Marché de l'Ouest.
The Marché de l'Ouest brings together fine grocery stores, a fruit store, bakeries and pastry stores, cheese shops, butchers, caterers and a food court. You will find bagels at Hansel & Bagels, a wide variety of fresh fish at Pêche Pêche and more than 60 kinds of high-quality, nitrate- and gluten-free sausages at Saucissier de l'Ouest.
Other public markets in Montreal
Montreal also has several neighbourhood markets, including:
Place Jacques-Cartier market, corner Notre-Dame/Saint-Paul (Champ-de-Mars metro),
Plateau-Mont-Royal market, corner Mont-Royal/Berri (Mont-Royal metro),
Square Saint-Louis market, corner Cherrier/Saint-Denis (Sherbrooke metro),
Papineau metro market, corner Cartier/Sainte-Catherine.
The essence of Terry's recipes
The essence of Terry's culinary secrets are based on fresh ingredients grown with care, and quality meats from animals raised as naturally as possible.
"Eating well is a way of thanking all the local men and women who devote their lives to the land and show their animals the utmost respect. Eating well is paying tribute to life!"