The barbecue no longer holds any secrets for Terry Pomerantz. This grilling sorcerer offers a few tips and tricks for grilling oysters successfully over the barbecue.
Which oysters are the best for the BBQ?
In Quebec fish shops, we can easily find Malpeque, Caraquet and Beausoleil oysters, named the Queen of the Oyster. They, respectively, come from Prince Edward Island, the Acadian Peninsula and New-Brunswick. We can also easily find Maine and New-England oysters.
How to open oysters?
Now that is Terry Pomerantz' main challenge! "When I cook oysters over the barbecue, I always invite someone who is really good at opening them…"
If you are right-handed:
Hold the oyster in your left hand, in the hollow part of your palm and with the opening oriented towards your wrist;
Insert the knife in the second third of the shell;
Slide the blade in slowly into the opening between both sides of the oyster shell;
Without applying any pressure, just gently begin turning the knife and voilà!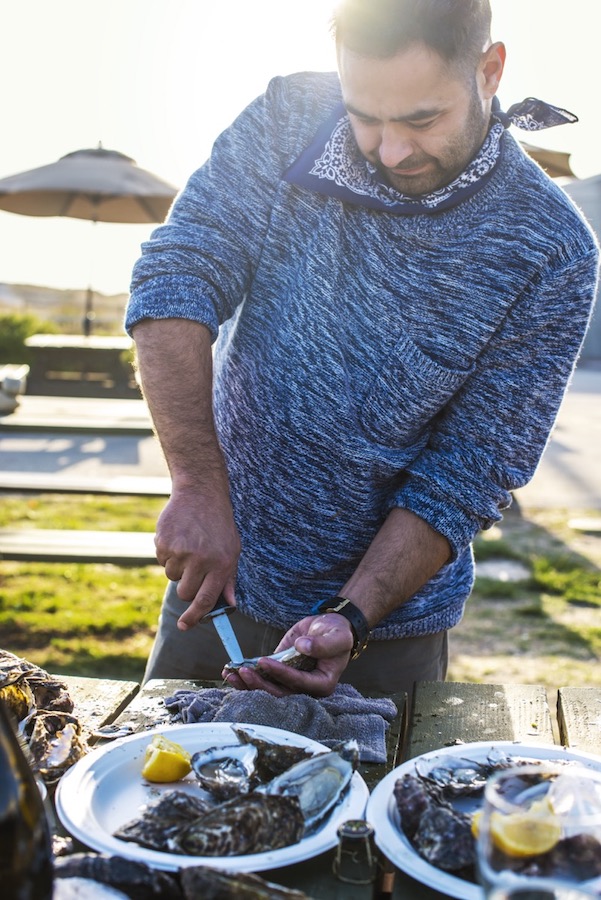 The right technique for cooking oysters over the barbecue.
Whether using a wood charcoal barbecue or a propane one, Terry Pomerantz makes sure to reach an even high heat. "Oysters cook in 5 or 6 minutes. You have to place them in rows over the grill, without removing them from the shell. If you've placed them from right to left, then you should remove them in the same order, since the ones on the right began cooking first."
"I like the smoky taste that the wood charcoal gives the oysters. If I cook them on gas, then I add a few pieces of soaked wood onto the burners so that the oysters will soak in those same light smoky flavors.
Terry Pomerantz' recipe for oysters on the BBQ
While the designated oyster opener is focused on his task, Terry sautés a good amount of butter in a pan. He adds minced garlic, smoked paprika and salt.
After placing the open oysters over the grill, Terry pours a little bit of that butter on each of them. He then adds a generous pinch of spicy breadcrumbs over each. "While they are cooking, the oysters absorb the butter. When there is practically no butter left in the shell, the oyster is ready to serve."
Wine pairing suggestions for oysters
"When someone asks me which wine I recommend for pairing with a specific meal, I always answer: the wine you love. Many people choose to pair oysters with a white wine like a Chablis or an Oyster Bay. But I like red wines! So, with oysters, I'll eagerly turn to a light Merlot like a Carpineto Farnito or a Chianti Classico Tenuta Peranao."