Terry Pomerantz offers 3 excellent side dishes for Coq au Porc –which is a typical Quebec recipe made of pork tenderloin wrapped in a flattened chicken breast. "Add the Coq au Porc to your barbecue pork tenderloin recipes. As for me, I simply added a little improvised personal touch to the recipes I have found while reading magazines and looking online."
The origins of Coq au Porc
The Coq au Porc recipe was born in Quebec. Who invented this recipe, in what region of Quebec and when? That remains a mystery!
Choosing the best meats for Coq au Porc
To make a Coq au Porc you will need:
Pork tenderloin cut into 2 pieces
2 chicken breasts
A few slices of Canadian bacon
How to prepare the Coq au Porc
To prepare Coq au Porc, Terry Pomerantz proceeds as follows.
Slice the chicken breasts so that you can open them like a book
Flatten them slightly with a mallet
Cut the pork tenderloin in two
Place each piece of pork tenderloin in the center of an opened chicken breast
Close each chicken breast over the pork tenderloin
Stuff each Coq au Porc with slices of Canadian bacon
Tie it all together with a string
In a pan, sear the Coq au Porc in a little bit of olive oil and butter
Pour ¼ cup of chicken broth and ¼ cup of white wine into the pan and deglaze
Cook in the oven at 350 o F for 15 minutes
Finish cooking on the BBQ at low heat and until internal temperature reaches 165 o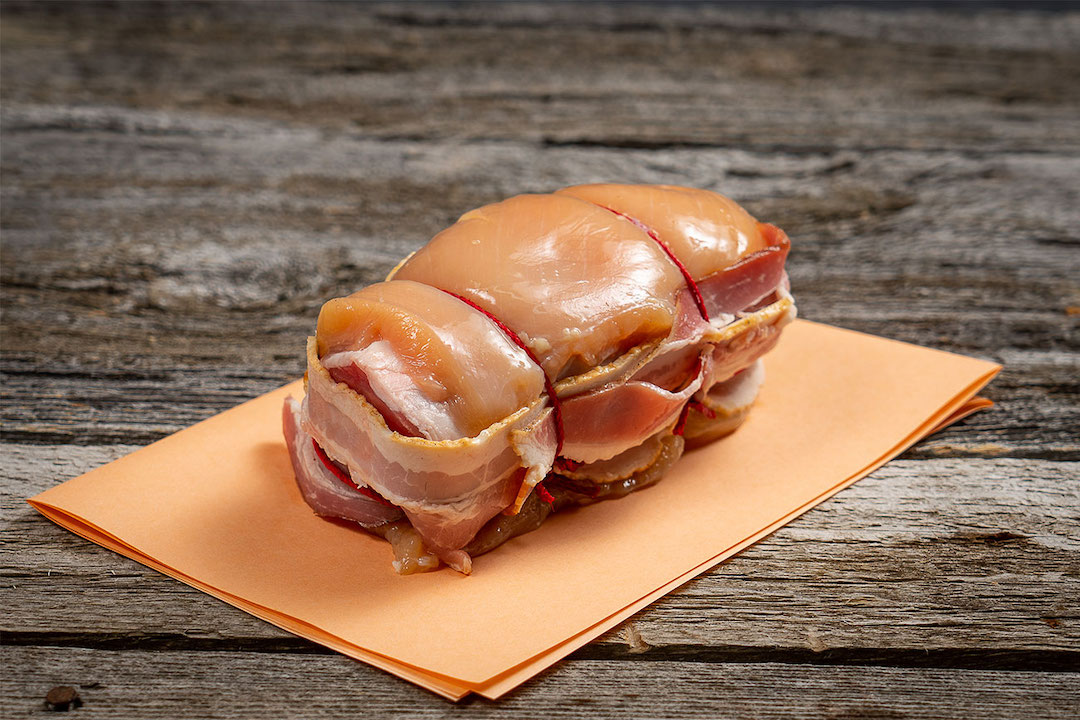 3 Side dishes with sauce for your Coq au Porc
Here are 3 side dishes Terry Pomerantz thinks go well with Coq au Porc:
Dauphinoise potatoes.
These potatoes bring a creamy element to the pork and chicken which are two lighter tasting meats.
Ingredients 
1 cup of milk
1 cup of 35 % cream
1 chopped onion
1 minced Quebec garlic clove
1 tbs of thyme
1 lb of yellow potatoes, in thin slices
1 ½ cups Emmental cheese
Preparation
Preheat oven to 350 o F (180 o C)
Butter an 8- inch x 8- inch cake pan (20 cm x 20 cm)
In a large pot, bring cream, milk, garlic, onion and thyme to a boil
Simmer on low heat for two minutes, and add salt and pepper
Place a layer of sliced potatoes at the bottom of the cake pan and sprinkle with 1/3 of cheese
Add 2 other layers of potatoes/cheese
Cook in the oven for 1h30 (or until potatoes are cooked)
If needed, finish cooking on broil for a few seconds until cheese is melted and bubbly
Brussel Sprouts
A few Brussel sprouts in a bit of crispy bacon can be served with mashed potatoes or gratin Dauphinois as perfect side dishes for Coq au Porc.
Ingredients
2 cups of Brussel sprouts cut in halves
2 slices of bacon, diced
¼ cup of chicken broth or dry white wine
Olive oil, to taste
Preparation
Pour olive oil in a pan and cook the bacon
Keep the fat and set the bacon aside
Sear the Brussel sprouts in the cooking fat
Deglaze with white wine or chicken broth
Bring to a boil and simmer until Brussel sprouts are tender
Add the cooked bacon once you are ready to serve.
Apple and apricot pilaf rice
Ingredients
1 chopped onion
1 tsp minced garlic
1 tbsp chopped ginger
1 ½ cups long grain white rice
2 diced apples
8 chopped dried apricots
1 ½ cups of chicken broth
½ cup of apple juice
1 tbs of old-style mustard
Salt and pepper to taste
Preparation
Preheat oven to 375 °F
Cook onion on medium heat in a casserole
Add garlic and ginger and cook for 1 to 2 minutes
Add the rice and stir to coat all the grains
Add the rest of the ingredients
Cover and cook in the oven for 20 to 25 minutes
With Coq au Porc, Terry suggests a medium bodied Bordeaux: a Saint-Emilion like a Closerie de Fourtet Grand-Cru or a Medoc like Château-Larose Trintaudon.