Whether it is for cooking or woodworking, the right tools are essential to your success, and knives are –without a doubt- the tools that chefs use the most. Terry Pomerantz tells us more about the best kitchen knives. He describes different kitchen knives, what they are used for and how to care for them.
How to Choose a Good Kitchen Knife
A good kitchen knife must be sharp, resistant, balanced and made to last.
Best Materials for the Hilt
Wood is generally the preferred material by artisans who make the best kitchen knives. Easy to work with, wood offers the cutler a wide variety of textures and finishes
The cherry tree makes for a very solid wood, almost indestructible
The olive tree yields a dense and resistant wood
White oak is antibacterial
Walnut resists humidity
Pakkawood, a composite material, resists variations of temperature
Best materials for the blade
Blades from the best kitchen knives are all made from steel. The best knives are made from several layers of steel. Some Japanese knives have 67 layers and more.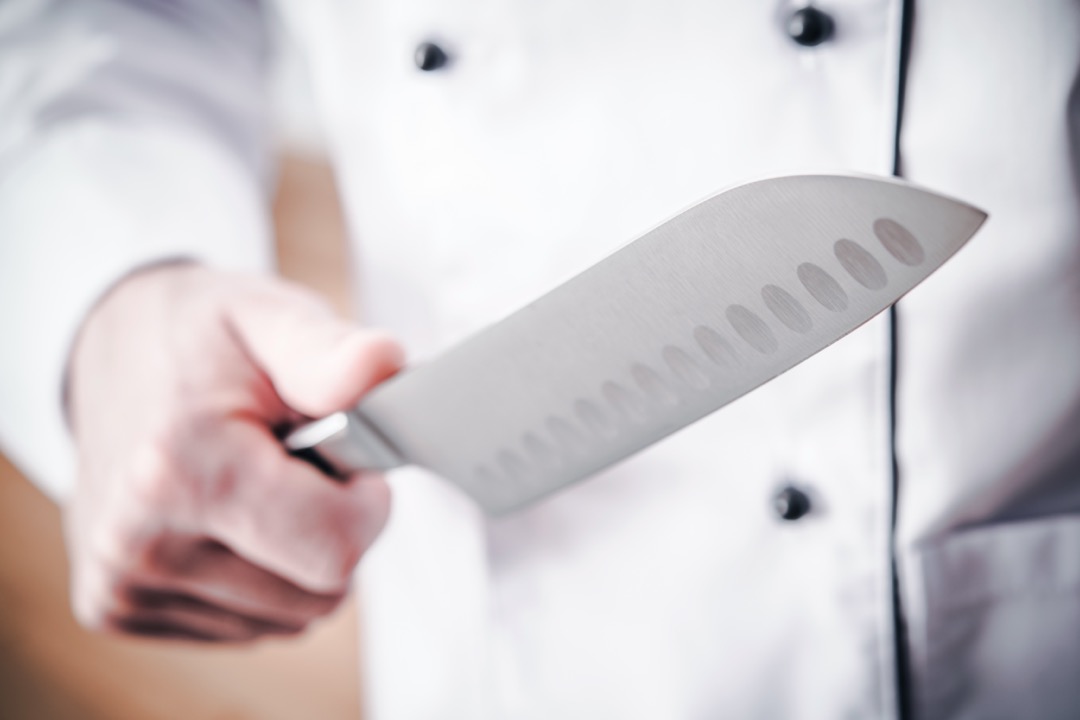 The Rockwell Scale
The hardness of a knife's blade is expressed in Rockwell C degrees (HCR)
A hardness of 56-58 HRC is for solid knives that are easy to sharpen.
A 58-60 HRC rating is for a sharp blade that resists well to repeated sharpening.
A 60-62 HRC rating and more indicates a very hard blade, but more fragile.
Among all of the things you should know about Japanese Kobe beef, let's mention that chef's prepare the most expensive beef cuts in the world with steel blades that have around a 64 HRC rating.
Available on the market, you will also find knives with a blade:
Made of stainless steel, making these knives more affordable, but they are more difficult to sharpen.
Made of ceramic. These light knives do not rust, but they are fragile.
Made of titanium. These light knives do not corrode easily.
Different Types of Kitchen Knives
Among the different knives that Terry Pomerantz uses the most in the kitchen, there are:
The paring knife. Which is the small knife you can do everything with, like peel vegetables or even cut pieces of meat.
The Chef's knife. Which is the knife you would use to slice meat and fish and that is also used to mince vegetables and chop onions, garlic and fine herbs.
The fish knife. Which is very practical for slicing fish.
The deboning knife. Which is used for meat, game and poultry.
How to Care for your Kitchen Knives
Terry Pomerantz recommends to always wash a quality kitchen knife by hand. "When you place a good knife in the dishwasher, the blade is dulled by hitting the surrounding cutlery. If the hilt is made from wood, then repeated trips in the dishwasher will quickly cause degradation of the wood."
Terry adds: "Quality knives often come in a case. You should always use it to store your knives. If you put all of your good tools one over the other in a kitchen drawer, with other utensils, then you are very likely to damage the blade."
Finally, Terry recommends a little bit of olive, linseed or camelia oil over the hilt, maybe once a month, in order to preserve it.
Sharpening your Kitchen Knives
Your kitchen knives' blades should always be very sharp.
If you want to know if your knife is sharp enough, hold a piece of paper in one hand. If you can cut through it with your knife without tearing it, your knife is sharp enough. If you can't, sharpen it!
"I recommend cleaning kitchen knives before sharpening the blade. And you must, of course, sharpen them often."
Among the sharpening tools you can use, there is:
The steel sharpening gun, which makes the blade sharper.
The sharpening stone, which makes the blade sharper, but also prolongs your knives' lifespan.
The electric sharpener, which is quick but not as efficient as the other two methods.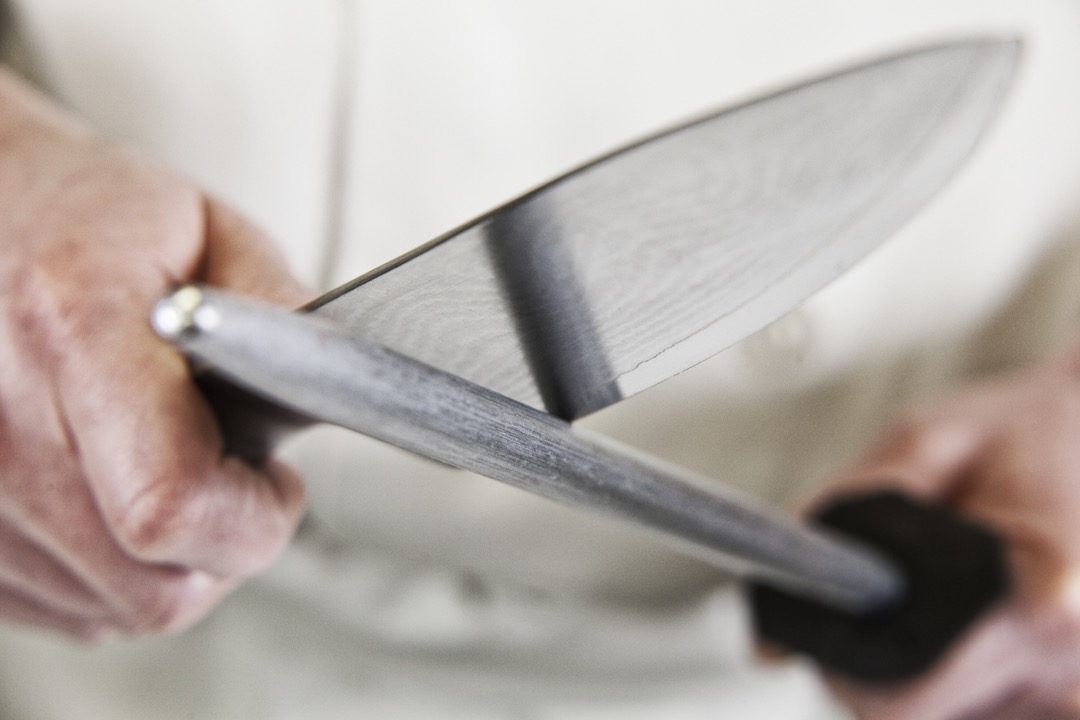 Top 5 Best Kitchen Knives
Here are the 5 brands for best kitchen knives.
Wüsthof (German brand)
MAC professional (made from stainless steel enriched with carbon, tungsten and vanadium)
Fukito Olive (with the heart of the blade surrounded by a few layers of stainless steel)
Fanteck (67 layers of stainless steel)
Le Creuset (hilt made of wood from the Italian olive tree, blade made from Damas steel).
"Respect the tools you use in the kitchen to show your love for good food!" concludes Terry Pomerantz, as he removes his apron.